John Francis Kelly (born May 11, 1950) was announced on July 28, 2017 as the new White House Chief of Staff for U.S. President Donald Trump, until which time he had been the Secretary of Homeland Security.
He is a retired United States Marine Corps general and the former commander of United States Southern Command, the Unified Combatant Command responsible for American military operations in Central America, South America and the Caribbean.
Kelly previously served as the commanding general of the Multi-National Force West in Iraq from February 2008 to February 2009, and as the commander of Marine Forces Reserve and Marine Forces North in October 2009. Kelly succeeded General Douglas M. Fraser as commander of U.S. Southern Command on November 19, 2012. Kelly was succeeded by Navy Admiral Kurt W. Tidd on January 14, 2016.
Kelly was appointed Secretary of Homeland Security on January 20, 2017 by President Donald Trump. On July 28, he was appointed to succeed Reince Priebus as White House Chief of Staff.
Kelly was born on May 11, 1950 in Boston, Massachusetts into an Irish Catholic family. He grew up in the Brighton neighborhood of Boston. Before he reached the age of 16, he hitchhiked to Washington State and rode the trains back, including a freight-hop from Seattle to Chicago. He then served for one year in the United States Merchant Marine, where he says "my first time overseas was taking 10,000 tons of beer to Vietnam".
In 1970, when his mother told him that his draft number was coming up, he enlisted in the U.S. Marine Corps. He was discharged from active duty as a sergeant in 1972, after serving in an infantry company with the 2nd Marine Division, Camp Lejeune, North Carolina. He was commissioned on December 27, 1975 as a second lieutenant in the Marine Corps via Officer Candidates School. In 1976, he graduated from the University of Massachusetts Boston and, in 1984, he received a Master of Science degree in National Security Studies from the Georgetown School of Foreign Service.
Kelly returned to the Second Marine Division where he served as a rifle and weapons platoon commander, company executive officer, assistant operations officer, and infantry company commander. Sea duty in Mayport, Florida, followed, at which time he served aboard aircraft carriers USS Forrestal (CV-59) and USS Independence (CV-62). In 1980, then-Captain Kelly attended the U.S. Army's Infantry Officer Advanced Course at Fort Benning, Georgia. After graduation, he was assigned to Headquarters Marine Corps in Washington, D.C., serving there from 1981 through 1984, as an assignment monitor. Kelly returned to the Second Marine Division in 1984, to command a rifle and weapons company. Promoted to major in 1987, he then served as a battalion operations officer.
In 1987, Kelly transferred to the Basic School in Quantico, Virginia, serving first as the head of the Offensive Tactics Section, Tactics Group, and later assuming the duties of the Director of the Infantry Officer Course. After three years of instructing young officers, he attended the Marine Corps Command and Staff College, and the School for Advanced Warfare, both located at Quantico.
Completing duty under instruction and selected for lieutenant colonel, he was assigned as commanding officer, 1st Light Armored Reconnaissance Battalion (1st LAR), 1st Marine Division, Camp Pendleton, California. During his tenure, 1st LAR was called in to provide augmentation support for police in the city of Long Beach, California during the Los Angeles riots of 1992. Holding this command position for two years, Kelly returned to the East Coast in 1994, to attend the National War College in Washington, D.C. He graduated in 1995 and was selected to serve as the Commandant's Liaison Officer to the U.S. House of Representatives, Capitol Hill, where he was promoted to colonel.
In 1999, Kelly transferred to joint duty and served as the special assistant to the Supreme Allied Commander, Europe, in Mons, Belgium. He returned to the United States in 2001 and was assigned to a third tour of duty at Camp Lejeune, now as the assistant chief of staff G-3 with the Second Marine Division. In 2002, Kelly again served with the 1st Marine Division, this time as the assistant division commander. Much of Kelly's two-year assignment was spent deployed in Iraq. In March 2003, while in Iraq, Kelly was promoted to brigadier general, which was the first known promotion of a Marine Corps colonel in an active combat zone since that of another First Marine Division assistant division commander, Chesty Puller, in January 1951.
In mid-April 2003, Kelly took command of the newly formed Task Force Tripoli and drove it north from Baghdad into Samarra and Tikrit. During the initial assault on Baghdad, Kelly was asked by a reporter for The Los Angeles Times if, considering the size of the Iraqi Army and the vast supplies of tanks, artillery and chemical weapons available to Saddam's forces, he would ever consider defeat. Kelly's archetypal response was, "Hell these are Marines. Men like them held Guadalcanal and took Iwo Jima. Baghdad ain't shit."
His next assignment was as legislative assistant to the Commandant of the Marine Corps, Michael Hagee. In January 2007 Kelly was nominated for major general, and confirmed by the U.S. Senate on September 11, 2007.
Kelly's next assignment, in July 2007, was as commanding general, I Marine Expeditionary Force (Forward). On February 9, 2008 Kelly assumed command of the Multi-National Force–West in Iraq, replacing Major General Walter E. Gaskin. After a year in Iraq, Kelly returned to the United States in February 2009.
Kelly was the senior military assistant to the Secretary of Defense and personally greeted Secretary Panetta at the entrance to the Pentagon on July 1, 2011, Panetta's first day as secretary. Kelly succeeded General Douglas M. Fraser as commander of U.S. Southern Command on November 19, 2012.
In a 2014 speech regarding the War on Terror, Kelly said:
"If you think this war against our way of life is over because some of the self-appointed opinion-makers and chattering class grow 'war weary,' because they want to be out of Iraq or Afghanistan, you are mistaken. This enemy is dedicated to our destruction. He will fight us for generations, and the conflict will move through various phases as it has since 9/11."
Kelly was succeeded by Navy Admiral Kurt W. Tidd on January 14, 2016.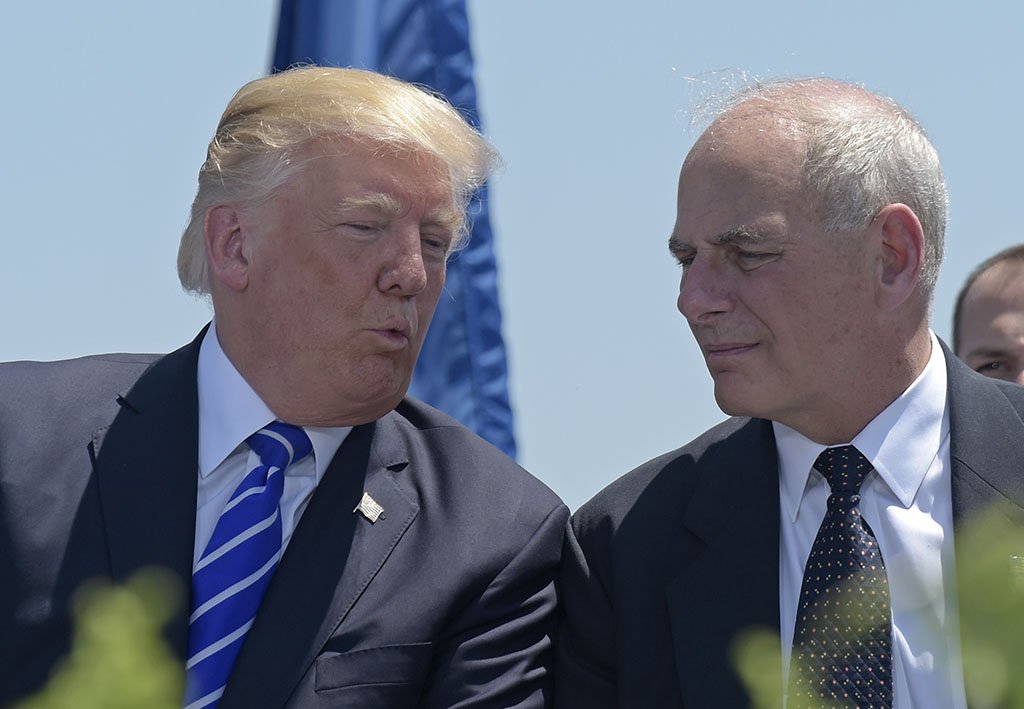 Secretary of Homeland Security
Kelly is ceremonially sworn in prior to President Trump's speech at DHS Headquarters on January 25, 2017. Kelly was actually sworn in five days prior.
On December 7, 2016, then President-elect Donald Trump nominated Kelly to head the Department of Homeland Security (DHS), a cabinet-level position. People familiar with the transition said that Trump's team was drawn to Kelly because of his southwest border expertise. On January 20, 2017, Kelly was confirmed as Secretary of Homeland Security by the United States Senate with a vote of 88–11. On that evening, he was sworn in by Vice President Mike Pence.
In an April 2017 speech at George Washington University, Kelly said, "If lawmakers do not like the laws they've passed and we are charged to enforce, then they should have the courage and skill to change the laws. Otherwise they should shut up and support the men and women on the front lines."
Secretary Kelly indicated days into the administration his interest in having the U.S.–Mexico border wall completed within two years. On April 21, 2017, Kelly said the U.S.–Mexico border wall would begin construction "by the end of the summer." Two days later, Kelly said he believed "a border wall is essential" as there were "tremendous threats" such as drugs and individuals coming into the US. On May 2, Kelly stated his surprise in office holders "rejoicing in the fact that the wall will be slower to be built and, consequently, the southwest border under less control than it could be."
In May 2017, Secretary Kelly said of terrorism, "It's everywhere. It's constant. It's nonstop. The good news for us in America is we have amazing people protecting us every day. But it can happen here almost anytime." He said that the threat from terrorism was so severe that some people would "never leave the house" if they knew the truth.
Chief of Staff to President Trump
Kelly was appointed as Chief of Staff on July 28, 2017 by President Donald Trump, succeeding Reince Priebus.
Personal life
In 1976, Kelly married Karen Hernest. They had three children: Robert, John Jr., and Kathleen.
In 2010, Kelly's 29-year-old son, First Lieutenant Robert Kelly, was killed in action when he stepped on a landmine while leading a platoon of Marines on a patrol in Sangin, Afghanistan. The younger Kelly was a former enlisted Marine and was on his third combat tour, and his first combat tour as a U.S. Marine Corps infantry officer. At the time of his death, Robert Kelly was with Lima Company, 3rd Battalion, 5th Marines. Robert Kelly's death made John Kelly the highest-ranking military officer to lose a child in Iraq or Afghanistan. Kelly's other son is a Marine Corps major.
Wikipedia
Posted by Канадская служба новостей(КСН)
Semper fidelis! General John Kelly is a Leader.

Thank you

@POTUS

for promoting a Marine to White House Chief of Staff 🇺🇸

Reince Priebus

pic.twitter.com/W0JxMskM5f

— Amy Mek (@AmyMek) 28 июля 2017 г.